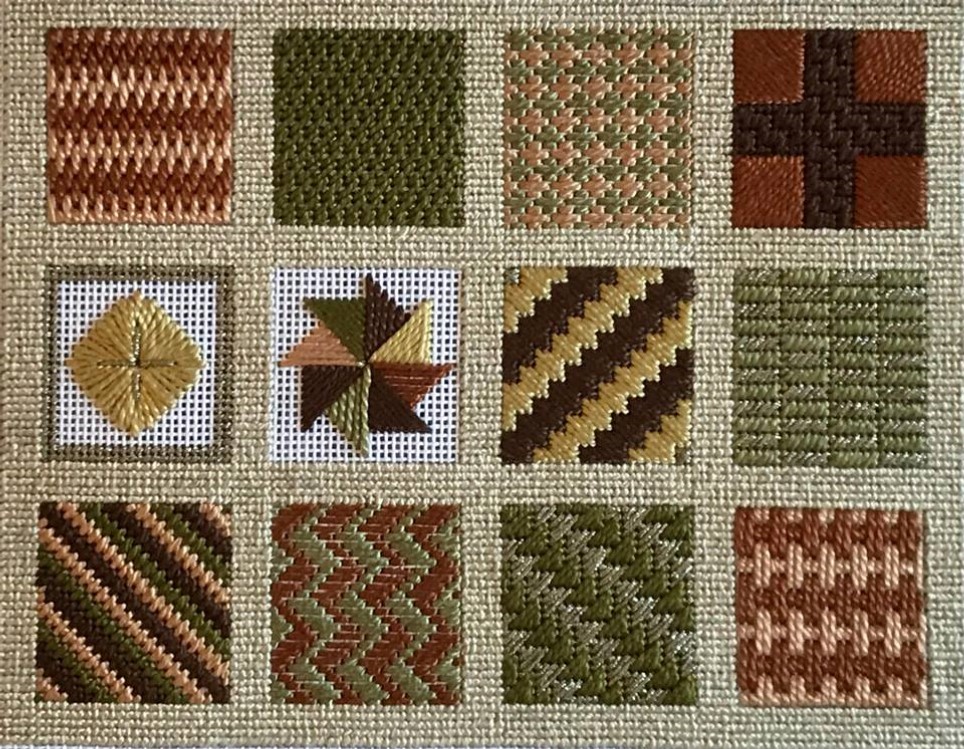 Have you always wanted to learn needlepoint? Have you done a limited amount of needlepoint, but want to increase your knowledge? Then join Attic Heirlooms at our class "Beginner Needlepoint Sampler". This class will address the three types of Tent stitches, compensation, and 13 specialty stitches. The stitches include, but are not limited to, Nobuko, Diamond Leaf, Horizontal Hungarian, Old Florentine and Diagonal Mosaic.
This design is done in Perle 3 Coton and on 14 count canvas. The approximate dimensions are: 8.5" x 6.5".
The kit will include everything you need to completely stitch this fun sampler. There will be different colorways to choose from.
This is a beginner piece designed specifically for Attic Heirlooms and being taught by an ANG Certified Senior Master Teacher, Susan Hoekstra.
Susan hoekstra
Biography
Susan Hoekstra is a Senior Master Teacher, receiving her certification from the ANG. She has been teaching in Europe and the United States for 19 years and taught classes and studio time in Brussels, BE, London, UK and Utrecht, NL from 1996 to 2001. She is the designer of the 2016 ANG SOTM, "Pineapple Leaves." ANG national seminars include "Maple Leaves" and "American Folk Sampler" in New Orleans, "Hark, The Herald Angel" and "A Thread for All Seasons in Myrtle Beach, "A Berlin Work Cardinal" in Chicago, "Ben's Kites" in Philadelphia, and "Dove in The Window" in San Antonio; as well as presenting color theory talks and needlework classes at the regional level in Chatham, NJ, Hyde park, NY, Devon, PA, Pottstown, PA, Camden, ME, London, UK and College Station, PA; in addition to other locations. Her strong belief in color theory greatly influences her way of teaching and encouraging her students to be creative in the stitching process. Her designs focus on "quilt geometrics," animals and primitives.